Banana Pudding Cheesecake w/ cinnamon whipped cream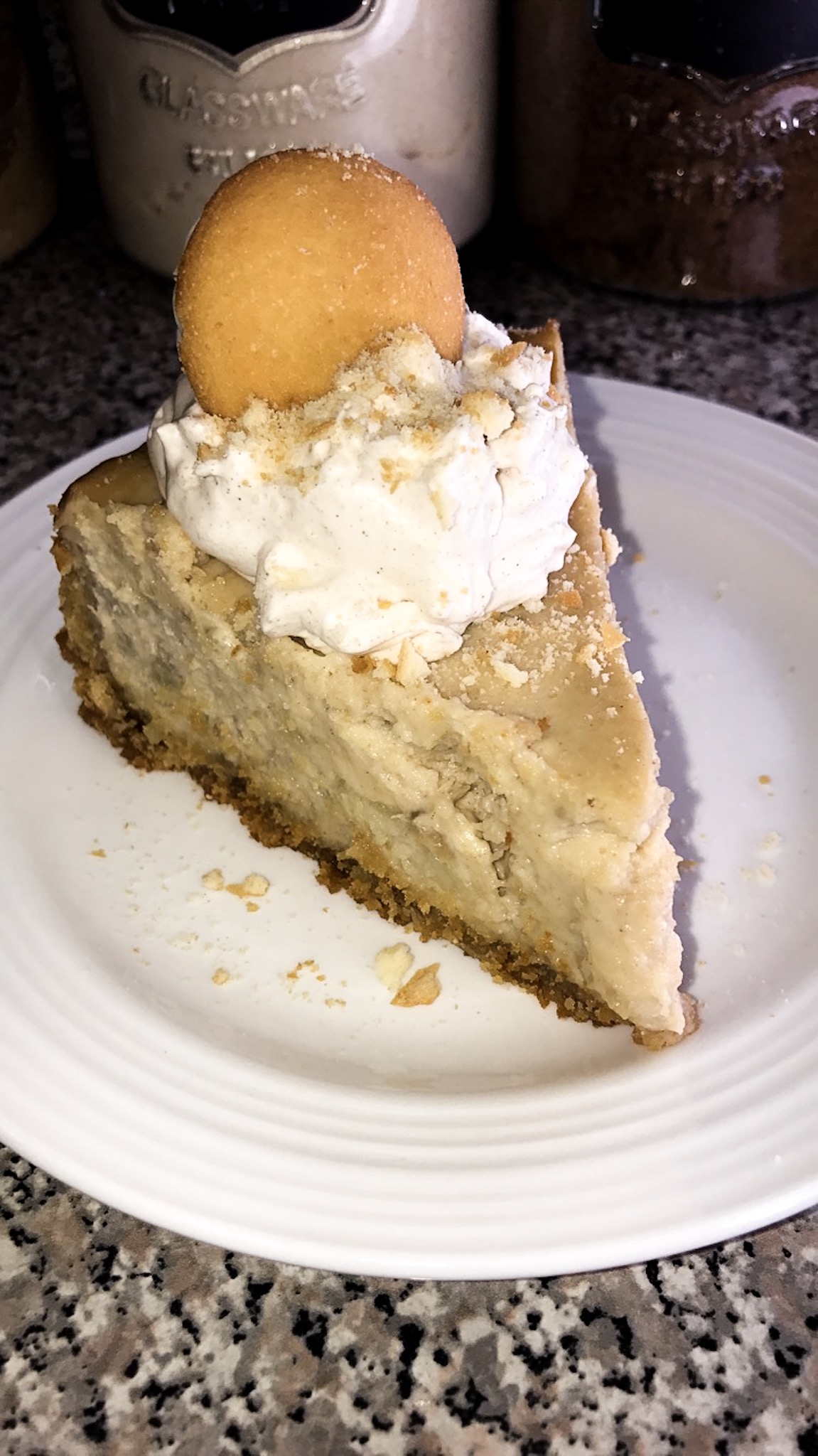 Growing up my absolute favorite dessert was banana pudding and no one could make it like my older sister Jack.  I remember every holiday season sitting in a chair by the stove as she stirred her homemade pudding in the pot for what seemed like hours…if you've made homemade pudding from scratch you know it doesn't really take hours however it definitely isn't a quick process.  As a adult I could never get the pudding recipe quite right so I gave up and decided to come up with a replacement. This is how my drunken banana pudding cheesecake was born.  I call it drunken because I never know what kind of dark liquor I will use (I use a different one every time I make it). My favorites so far are rum and southern comfort, but you can use whatever dark liquor you prefer.
I always thought making cheesecake was this scary and intimidating process but to my surprise it was super easy…a long process (cheesecake has to set for at least 8 hours) but a pretty easy one.  I don't know what's better about this gem, the hints of rum and brown sugar, or the banana pudding flavor created by the banana and cream cheese mixture. This has become a top contender in my household and is usually gone within 24 hours lol. I hope this recipe brings as joy and happiness to your tummy as it has brought to ours.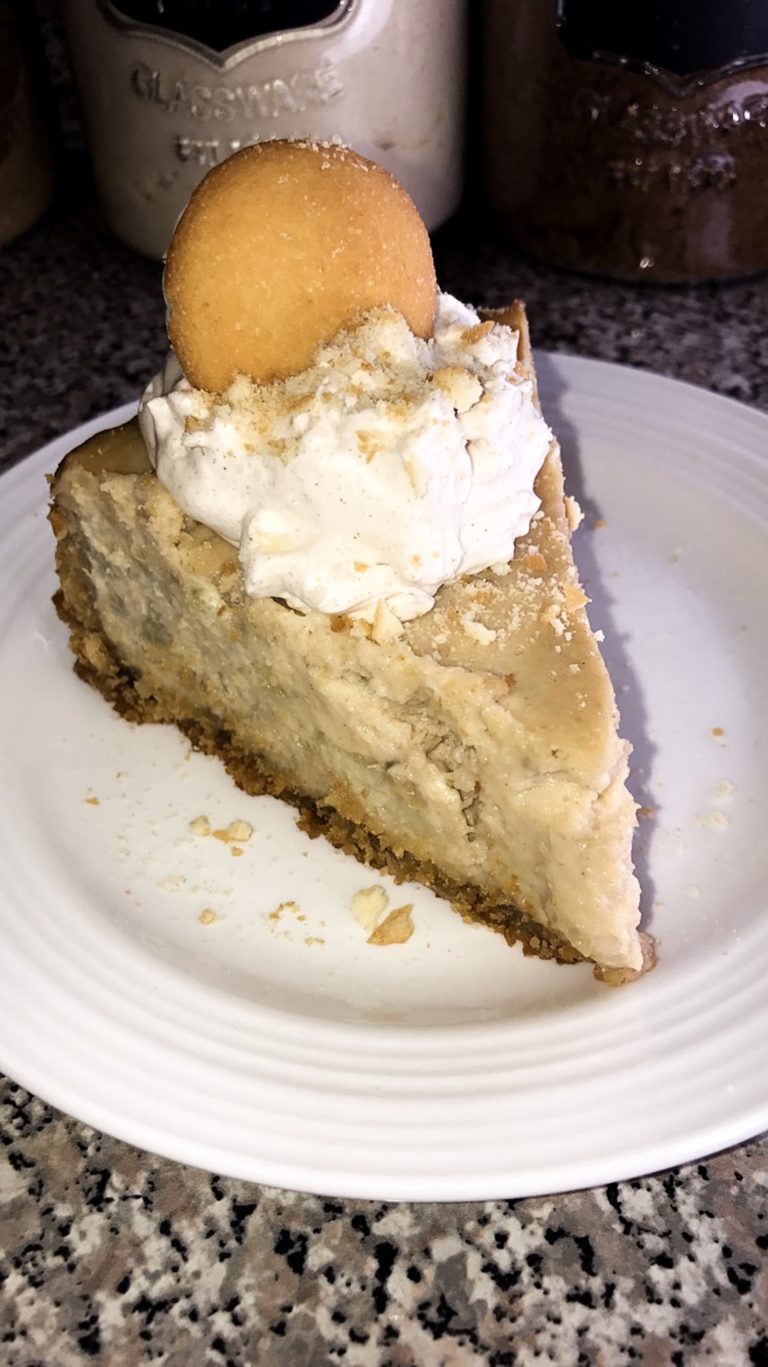 | | |
| --- | --- |
| | |
Preheat oven to 350 degrees.

Place vanilla wafer cookies in a Ziploc bag and crush. (It's ok to leave bigger chunks of cookies because this will be going in a food processor.

Measure out 1 ½ cups of the crushed wafers, ½ cup of macadamia nuts, and ½ cup of melted butter and place in your food processor. Mix for 1 minute or until everything is crushed finely.

Press into your greased 9 inch springform pan. Place in the oven for 10 minutes. (DO NOT OVER COOK!)

After 10 minutes remove crust from the oven and stand 16 wafers around the edge of pan with the rounded edges facing outward. Gently press them into the crust.

In a small sauce pan combine mashed bananas, brown sugar, lemon juice, and rum. Cook over a medium heat for 5 minutes. Remove from heat to cool.

Using an electric mixer, beat cream cheese on medium speed until completely smooth.

Beat in eggs (one at a time), vanilla, and milk. STIR in nutmeg and cooled banana mixture until evenly mixed.

Pour batter into pan on top of your crust.

Bake for 70 minutes until center is almost set. cheesecake should jiggle a bit.

Remove cheesecake from oven and allow to cool completely. About an hour.

Leave cheesecake on springform tray only and wrap in cool wrap and allow cheesecake to cool for 6-8 hours.

In a cold medium bowl beat whipped cream on high speed until thick peaks form, about 3 minutes.

Stir in cinnamon and vanilla.

Garnish cheesecake with whipped cream, sliced bananas, and vanilla wafers and enjoy!
You can swap out macadamia nuts for pecans or, omit altogether if you're allergic.
Before placing your cheesecake in the over place your pan in water bath to keep the top from cracking while baking.
For a the best whipped cream place your bowl, whisk, and whipping cream in the freezer for 10 minutes before preparing.
---
---