Pecan Pie cheesecake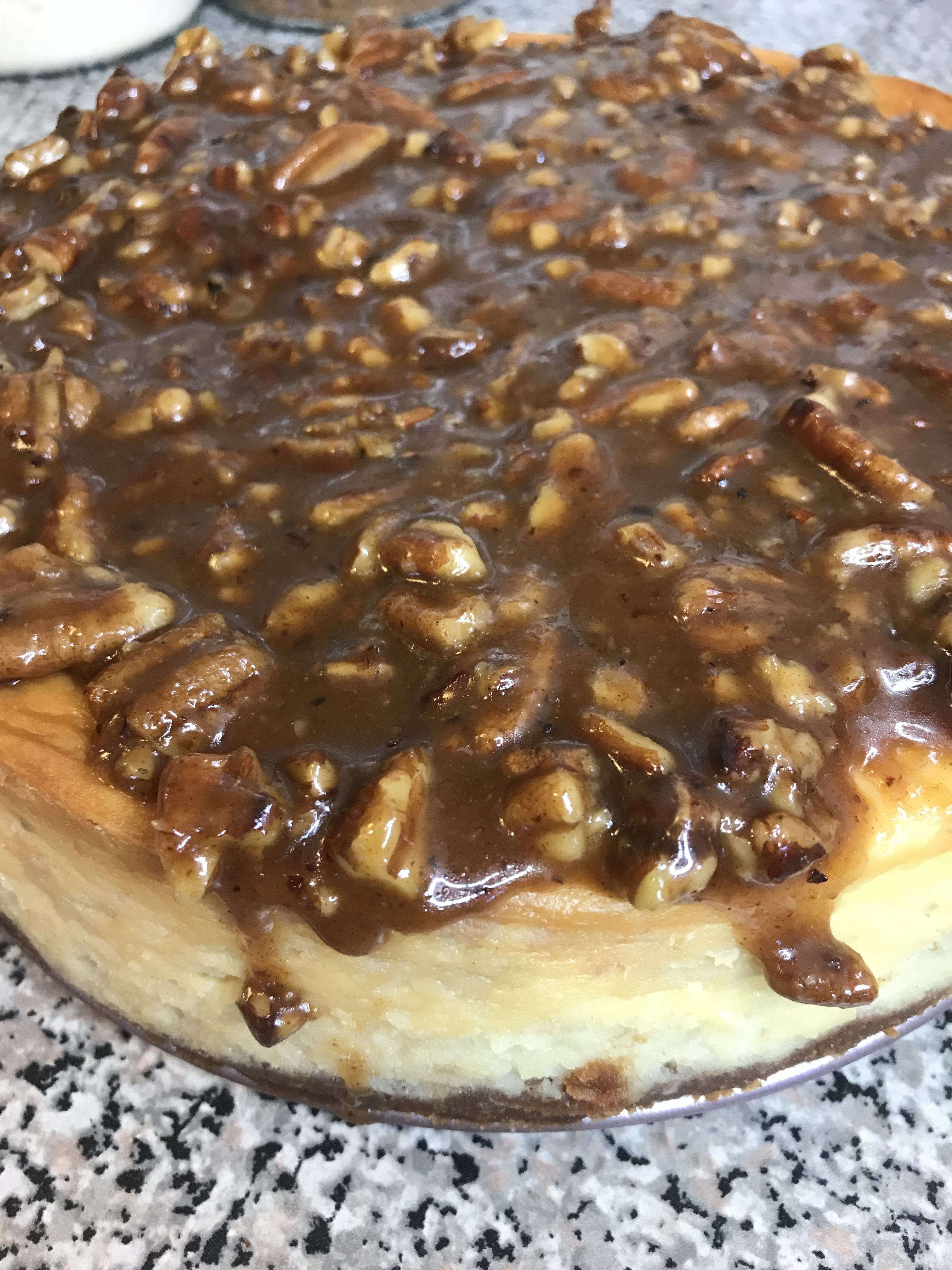 This is what happens when I can't choose between baking a cheesecake and a pecan pie. So, I combine them into one and create a sweet, creamy, nutty love child. I should be ashamed because I'm sure this cheesecake is an obnoxious amount of calories but, guess what? I. Don't. Care. I haven't even bothered putting this recipe into My fitness pal to see how much trouble I'm getting myself into because again. I don't care. This is not one of those desserts that you want to make if you're watching your figure because you will fail with this sitting around in the fridge. I never promised guilt free food I just promised good food and this my friends is just that!
| | |
| --- | --- |
| | |
Preheat oven to 350 degrees.

Place vanilla wafer cookies and nuts in food processor and blend until fine, about 1 minute.

Press cookie mixture into your greased 9 inch springform pan. Place in the oven for 10 minutes. (DO NOT OVER COOK!)

In a medium saucepan combine sugar, corn syrup, butter, eggs, pecans, syrup, and vanilla and bring to a boil over a medium high heat. Be sure to stir constantly until sauce thickens. Pour into your baked crust and set aside.

Using an electric mixer, beat cream cheese, mascarpone, and sour cream on medium speed until completely smooth.

Beat in eggs (one at a time), vanilla, and milk. STIR in cinnamon and nutmeg.

Pour batter into pan on top of your pecan pie layer.

Bake for 70 minutes until center is almost set. cheesecake should jiggle a bit.

Remove cheesecake from oven and allow to cool completely. About an hour.

Leave cheesecake on springform tray only and wrap in cool wrap and allow cheesecake to cool for 6-8 hours.

In a small saucepan combine butter and brown sugar. Cook for 5 minutes or until mixture starts to bubble and stir in heavy cream, cinnamon, and toasted pecans. Allow mixture to cool.

Remove cheesecake from springform pan and spoon pecan topping over cheesecake. Slice and enjoy!
You can swap out macadamia nuts for pecans.
Before placing your cheesecake in the over place your pan in water bath to keep the top from cracking while baking.
Run knife under hot water to make slicing cheesecake easier.
---