Slim & Husky's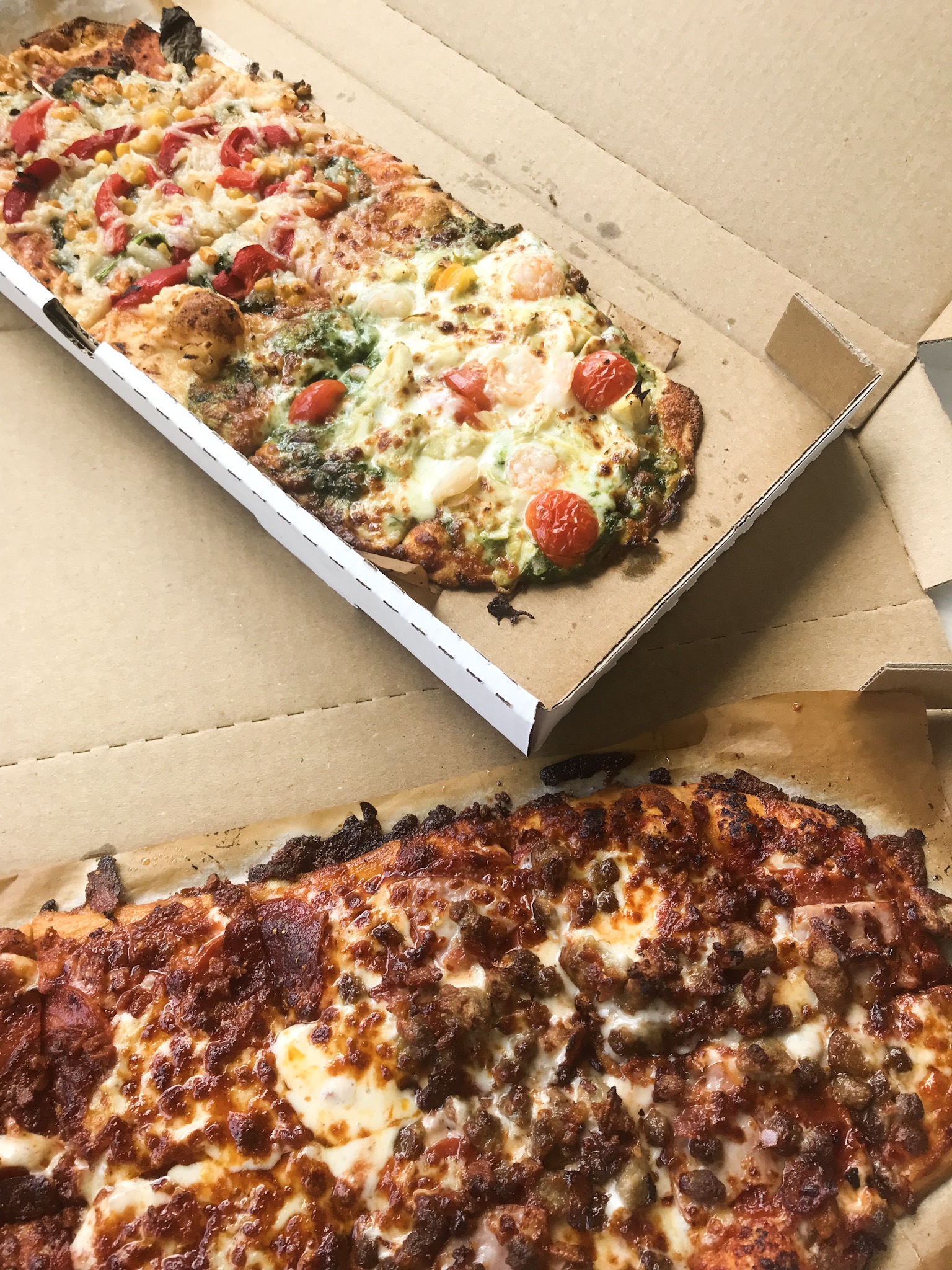 Hey my loves! I know… I know it's been a minute but, I come bearing gifts in the form of a restaurant review. Now, I know y'all are used to me giving my reviews on my IG stories however, I decided to switch it up a bit.
On Monday I was invited by the cool folks over at Slim and Husky's to come try out their menu so I loaded up the kiddos and we made the hour long trip to W. Midtown. I'm going to do my best to try and set the scene the way I do when I'm giving y'all the tea on my stories so, here goes. As soon as we pull up to the restaurant I'm immediately happy because parking is super easy to get to (which is not always the case in downtown/midtown Atlanta) so, we park and head in the restaurant. We walk in and I catch a vibe right away because some old school Aaliyah is playing in the background. We go up to the counter where we are met with an array of pizza toppings. We decided on 4 of their menu options; Roni roni rone, cee no green, vegan, and California love (the kids made their own so they could choose their own toppings). They also hooked us up with a 6-pack of their cinnamon rolls. Our pizza's came out fairly quickly and of course our hungry asses were excited to eat up. Now, I'm going to give you all the break down of our pizza's and the toppings and let you know how we felt about each of them cause….that's why you're here right??
Rony Roni, Rone: Classic red sauce, cheese blend, pork pepperoni, beef pepperoni, and spiced pepperoni.
Cee No Green: Classic red sauce, cheese blend, ground beef, pepperoni, hickory smoked bacon, Canadian bacon, and Italian sausage.
Nothin but a "V" Thang: Bean rage, vegan cheese, caramelized onions, roasted peppers, oven roasted corn, and spinach.
California Love: Spinach basil pesto, cheese blend, artichoke, sliced tomato blend, red onion, and shrimp.
Ok, so now that I've given the breakdown of the ingredients I can get into the good stuff,  I picked the Rony Roni, Rone and Cee No Green and once the pizzas came out I immediately regretted it.  Not because the pizza's weren't good but they were crazy similar as far as the toppings and practically tasted the same, the biggest difference between the pizzas was the bacon.  They were both delicious but if I had to pick one it would be the Cee No Green, the hickory bacon added a nice boost in flavor.  Next up were the California Love and Nothing but a "V" Thang pizzas.  These two weren't our favorites and here's a quick breakdown of why, the California Love had pesto as the base sauce and I was initially uber excited about this cause, y'all know I LOVE pesto.  Unfortunately they missed the mark on the pesto, it was difficult to taste on the pizza so I'm not sure if it wasn't enough or if their pesto just lacked flavor.  Also, I would totally omit the shrimp if you're going to order this one it was an unnecessary addition.  Their vegan option was our least favorite due to the excess vegan cheese and lack of flavor, if you're going to go with a vegan option with them I would suggest just making your own and choosing some different toppings.  Lastly we sampled all of their cinnamon rolls, the O.G, Cookie Monsta, Sticky Fingaz, Ms. Berry, and Ninja Tartle my girls and I were the most excited for these cause we are total  cinnamon roll connoisseurs.  While we weren't blown away by the cinnamon rolls I can see how they serve as a nice treat for guests.  Surprisingly the ninja tartle (green apple sauce with a jalapeño cream cheese glaze) was my favorite, while the cookie monsta (white chocolate sauce, area and peanut butte crumbles) stood out for my girls.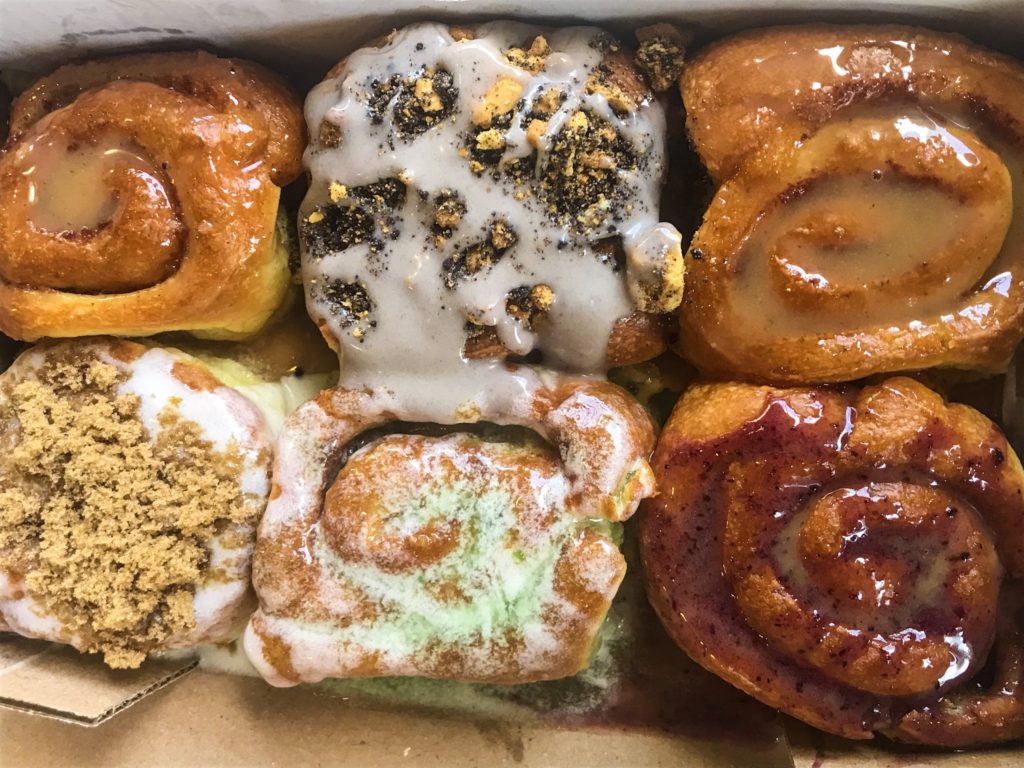 We enjoyed our overall experience at Slim and Husky's. The staff were all nice and patient with my children when taking their orders our food came out quickly and efficiently. This is a cool spot I would suggest to go with your friends and family to hang out and enjoy some drinks, pizza and 90's R&B.
Just like with my recipes, below I will leave y'all with a few hacks that I believe will elevate your Slim and Husky's experience. Until next time my loves…kisses!
Slim and Husky Notes:
I would sub out their classic red sauce and pesto with the white sauce and/or the spicy red sauce.  
Don't add shrimp to anything.
If you can try out one of their local craft beers they have some pretty yummy options.
You can try out multiple pizzas by just doing half and half.  I thought this was cool since I am indecisive af and I like options.  
Their pizzas come in 2 different sizes, Slim and Husky lol, we chose husky for the adults and the slim option for the kids.  
After my visit a little birdie told me their P.R.E.A.M is the truth so, if you get a chance to try it be sure to let me know what you think.  
Don't forget to let them know that @shesmaryann sent you! 
---