Shrimp and scallop stuffed peppers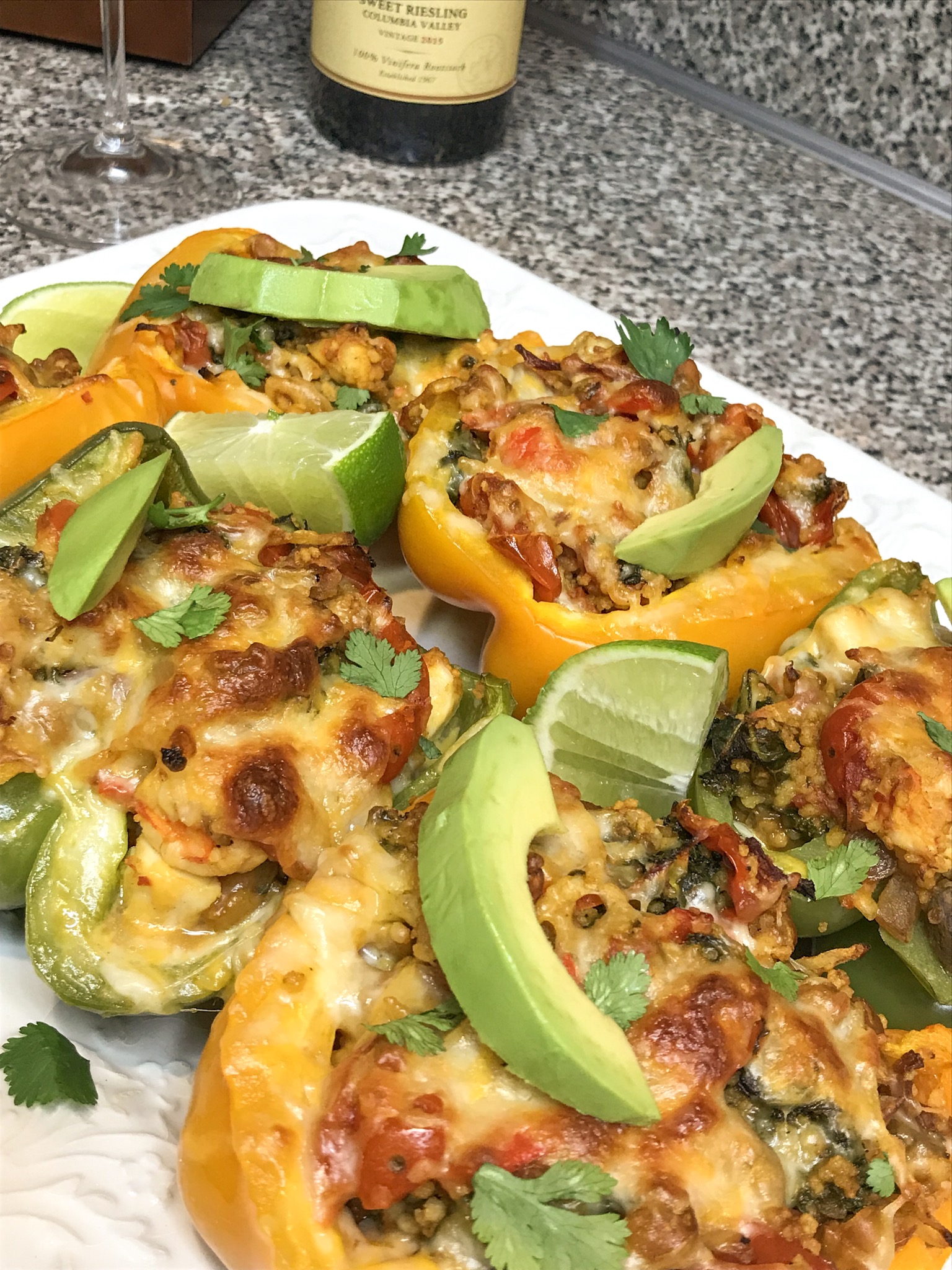 Hey guys I'm back! I can't believe it's been about 2 weeks since my last post, but I had to take a much needed break.  Don't worry I spent all of that time cooking and if you follow me on Instagram you already know I have a few recipes that I've promised you.  So, heres the first one! Let me be honest ladies and gents, I normally hate stuffed peppers… like REALLY HATE.  However I do not believe in trying something once and just swearing it off, I have this theory that there is usually always a way to make something work to your liking.  I also have this believe that it's usually not the actual food that you don't like its probably just how it was prepared.
My first time trying stuffed peppers was the traditional taco mix stuffed in a green bell pepper, once again HATED IT lol.  So this time I knew immediately that if this was going to work I would have to swap out the bitter green bell for one of the other less bitter colors.  This time I went with the yellow bells and boy, I'm happy I did.  Also, since I'm trying my best to eat healthier I decided to use seafood as my protein and focus more on loading these peppers up with vegetables and OH-EM-GEE (insert praise hand emojis).  These are legit the best peppers I've ever had, they were so damn good! I enjoyed this mixture so much I even used it to top some sweet potatoes I made the following day.  This recipe is so cool because you can truly make it your own and use whatever seasonings, veggies, and protein you prefer.  I advise reading the recipe in a full as well as the notes before you get started.  If you give this a try don't hesitate to tag me in your pictures on Instagram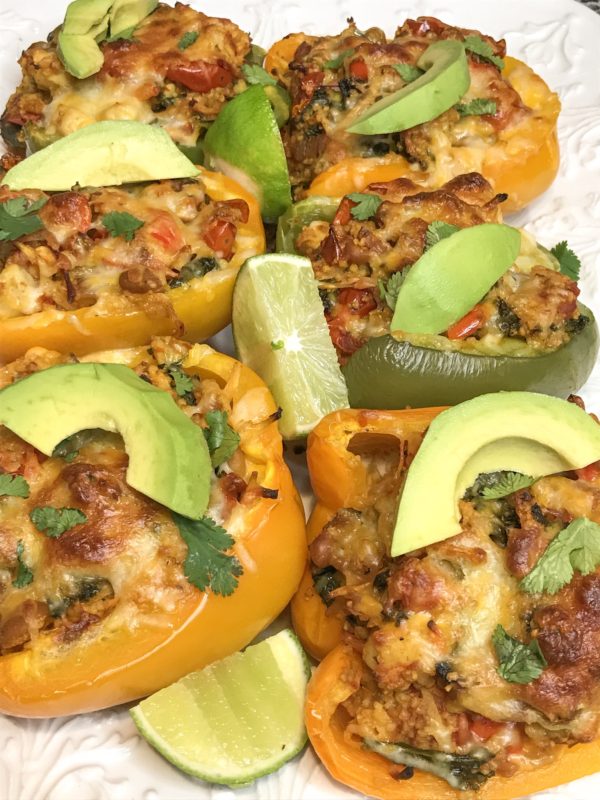 | | |
| --- | --- |
| | |
Pre heat oven to 400 degrees. On a large sheet pan spread out your cherry tomatoes and toss in ¼ cup of EVOO sprinkle with sea salt and cracked pepper. Place in oven and roast for 20 minutes or until tomatoes start to burst.

In a large skillet fry your bacon on a medium/low heat. Once bacon is fully cooked remove the strips from the grease and turn your heat up to a medium heat. Add your garlic and red onion to the pan, sauté for 3 minutes then add your tomato paste. Once your cherry tomatoes are finished roasting add those to your pan (make sure you include whatever juices are in your pan from your tomatoes also) smash your tomatoes using your spoon or a potato smasher. Allow your tomatoes to cook for 5 minutes, then add your veggie stock and white wine. Let this simmer for 5-7 minutes then add your cilantro, veggies (minus the avocado and scallions) and seasonings and let this sauté for about 3 minutes or until kale has cooked down, mix until everything is well combined.

Add your seafood and cook for 5 minutes (don't cook seafood fully it will finish cooking in the oven). Mix your pinto beans and couscous in well and add more broth (1/4 cup) if your mixture doesn't still have fluids. Spoon mixture into your bell pepper halves and sprinkle with cheese. Bake on 400 degrees for 15-20 minutes. Allow peppers to cool for 5 minutes, top with avocado and scallions and enjoy!
This can easily become a vegan/vegetarian meal just leave out the seafood. You can also substitute any protein you prefer. I used brown sugar bacon, it provides a yummy sweet flavor to your mix. I used sweet Riesling, this also provided a sweet flavor to the mix. The sweet notes in the mix help cut the bitterness of the bell peppers. You can use any color peppers you'd like. I advise taking the extra time to cook dry pinto beans. I do not recommend canned beans (health reasons). Check your local store for frozen that's also a healthier option. The seasonings I listed in the recipe are optional, you can absolutely use your preference in seasonings to make it your own.
---